1. Producing Range and Technical Description of the Hanging Battery Solar LED Street Lights:
Pole Height: 4M-12M. Material: plastic coated on hot-dip galvanized steel pole, Q235, anti-rust and wind
LED Power: 20W-120W DC type, 20W-500W AC type
Solar Panel: 60W-350W MONO or POLY type solar modules, A grade cells
Intelligent Solar Controller: IP65 or IP68, Automatic light and time Control. Over-charging and over-discharging protection function
Battery: 60AH/12V-250AH/12V*2PC. Fully-sealed maintenance-free gelled battery
Lighting hours: 11-12 Hrs/Night, 2-5 backup rainy days

4.0KWH Design, Lighting Time: 11-12 Hours/Nights*3-5 Overcast Weather
| | | | | |
| --- | --- | --- | --- | --- |
| Pole height | 6M | 7M | 8M | 9M |
| LED Lamps | 30W | 40W | 60W | 80W |
| Solar Panel | 140W*1pc, Poly | 80W*2pcs, Poly | 140W*2pcs, Poly | 160W*2pcs, Mono |
| Solar Battery | 120Ah/12V*1pc | 150Ah/12V*1pc | 120Ah/12V*2pcs | 150Ah/12V*2pcs |
| Battery Box | Engineering steel | Engineering steel | Engineering steel | Engineering steel |
| Solar Controller | 10A/12V | 15A/12V | 15A/24V | 20A/24V |
| FOB China | USD | USD | USD | USD |
| Packing: 40' HQ | 150 Units | 130 Units | 100 Units | 80 Units |
5.0KWH Design, Lighting Time: 11-12 Hours/Nights*3-5 Overcast Weather
| | | | | |
| --- | --- | --- | --- | --- |
| Pole height | 6M | 7M | 8M | 9M |
| LED Lamps | 30W | 40W | 60W | 80W |
| Solar Panel | 120W*1pc, Poly | 140W*1pc, Poly | 120W*2pcs, Poly | 140W*2pcs, Mono |
| Solar Battery | 120Ah/12V*1pc | 150Ah/12V*1pc | 120Ah/12V*2pcs | 150Ah/12V*2pcs |
| Battery Box | Engineering steel | Engineering steel | Engineering steel | Engineering steel |
| Solar Controller | 10A/12V | 15A/12V | 15A/24V | 20A/24V |
| FOB China | USD | USD | USD | USD |
| Packing: 40' HQ | 150 Units | 130 Units | 100 Units | 80 Units |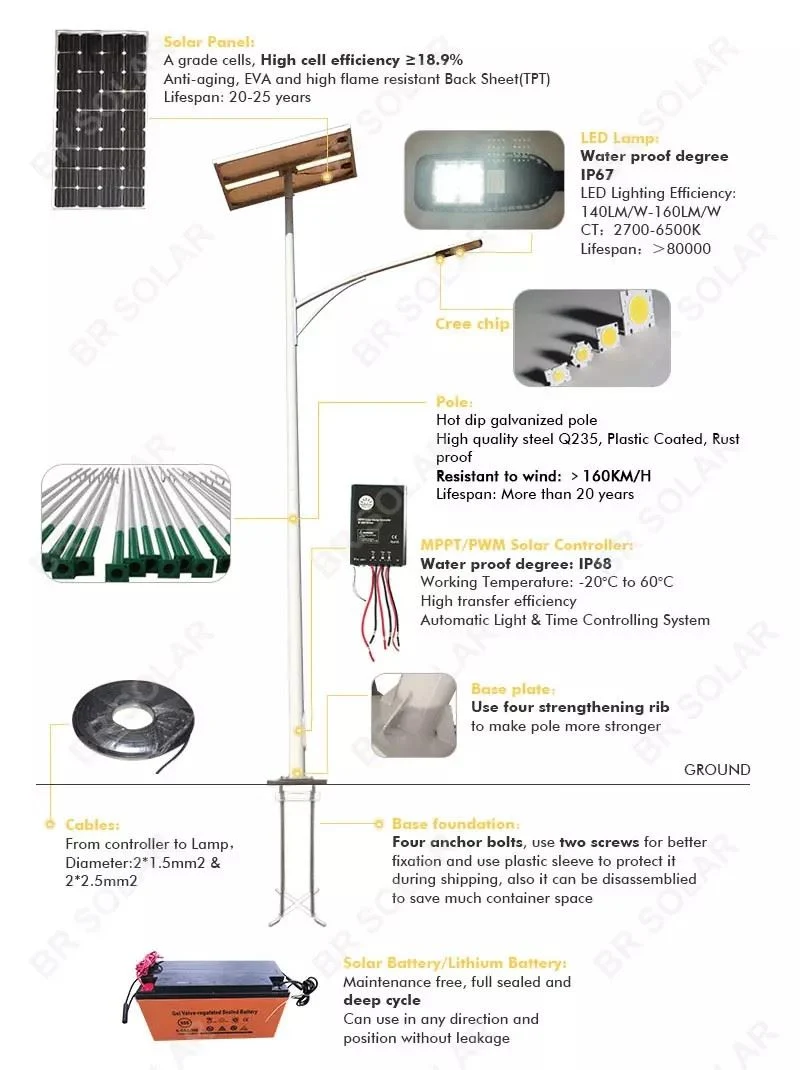 2. Solar Street Lights Intelligent Lighting Mode: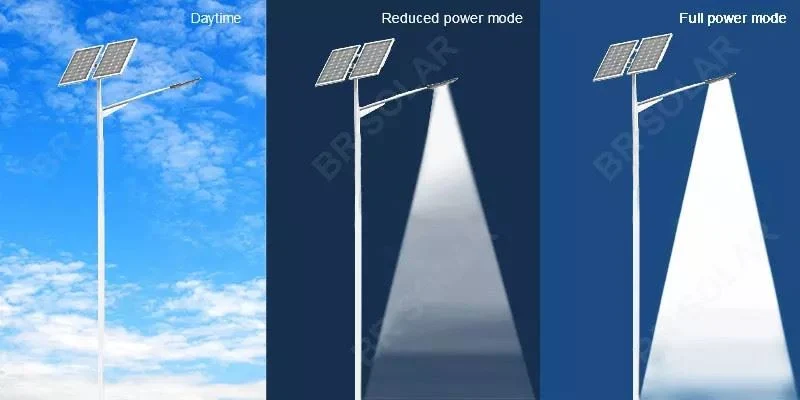 3. Quality assurance of BR Solar Street Lights:
Firstly, Every part of the street light is of the best quality.
| | |
| --- | --- |
| Other supplier's solar panel: | Our solar panel: |
| Use 2 grid lines like left picture shows | We use silver bus bar and 5 grid lines for better electric conduction |
| B grade cells | A grade cells |
| Low energy conversion rate some only 15% | High energy conversion rate which has reach 20%, much higher than the common supplier's panel in the market. |
| It will effect the working condition of the whole system directly. | Four diodes in junction box |
| Just two diodes in junction box | Thick aluminum frame, it's enough stronger and can resistant to strong winds |
| Aluminum frame is very thin easy to out of shape and hard to resistant to strong winds | Our panel backboard is very smooth and good look |
| Some panel's backboard is not smooth, rough workmanship | Long connecting cable, can connect solar panel to solar controller directly |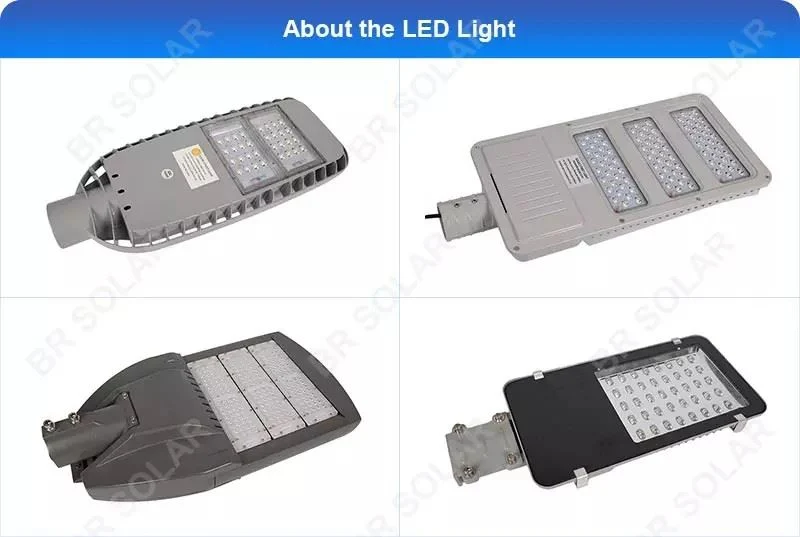 A. Using high pressure die-casting alumium, corrosion ressistant
B. Cree chip, super bright with high lumen 140LM/W-190LM/W, especially S1 type
C. Every lamp including sealing washer for better waterproof, lamp waterproof degree is IP66-IP68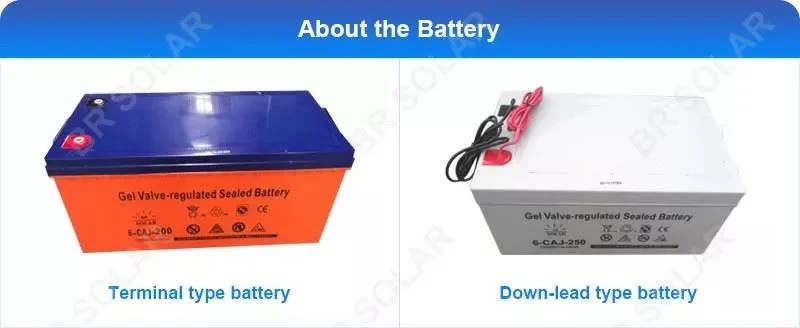 A. Waterproof degree is IP68, can be tested in the water directly.
B. Wider temperature range -30
°C to 55°C.
C. Low internal resistance and low self-discharging rate.
D. Our battery use a particular Nanomaterial Gell, so then will be impossible to spill acid even if the cover is broken.
E. The lifespan is greater than 1000 times at 25
°C, ordinary battery is just 600 times by industry standard.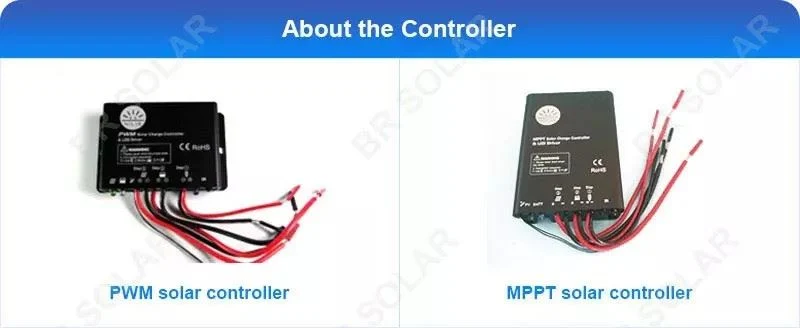 A. Waterproof degree is IP68 can be tested in the water directly.
B. PWM controller adopt tandem PWM charge control method, so that the voltage loss of electrical circuit is only the half of diode charge, charge efficiency to improve by 3% - 6%.
C. MPPT controller use famous Epsolar brand, high quality components and perfecting system performance with maximum conversion efficiency of 98%, 10%-15% higher than conventional controller (cost higher than PWM type).
D. Battery reverse connection protection, over-voltage protection and under-voltage protection. Solar module reverse connection protection.
E. 12/24VDC automatically identifying system voltage or user-defined working voltage.
F. 100PCS solar street light matched one Remote Controller freely.

A. Plastic coated on Hot-dip galvanized steel pole, Q235, anti-rust and wind.
B. Wind resistance: 160KM/H.
C. Can be painted with requested color.
D. Smooth surface with professional polish technology.
E. The thickness of our 6M pole is 3mm, other supplier's just 2.75mm, quality is our culture.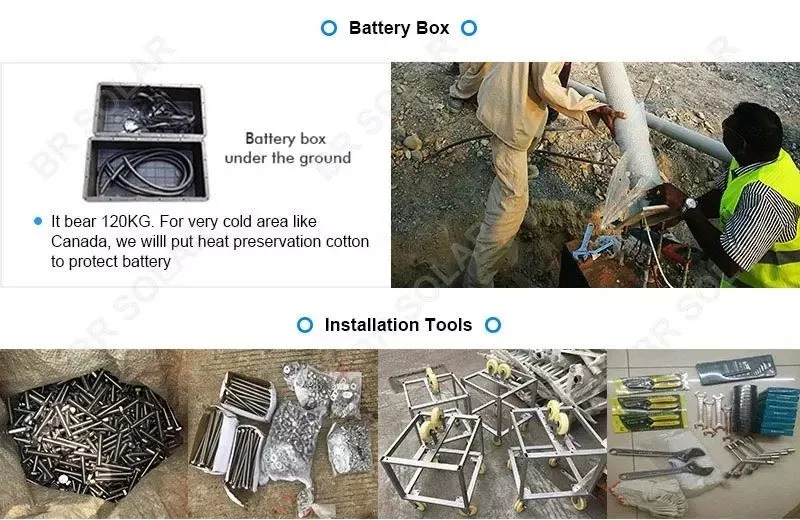 A. We use better grade stainless steel screws, like SS304.
B. We provide this kind installation trucks for clients to save their installation time and cost.
C. We also provide spanner, waterproof tape, insulating tape, gloves and pliers for free.

Secondly, We have the Standardized production process, and strictly in accordance with 6S management standards (SEIRI, SEITON, SEISO, SEIKETSU, SHITSUKE, SECURITY)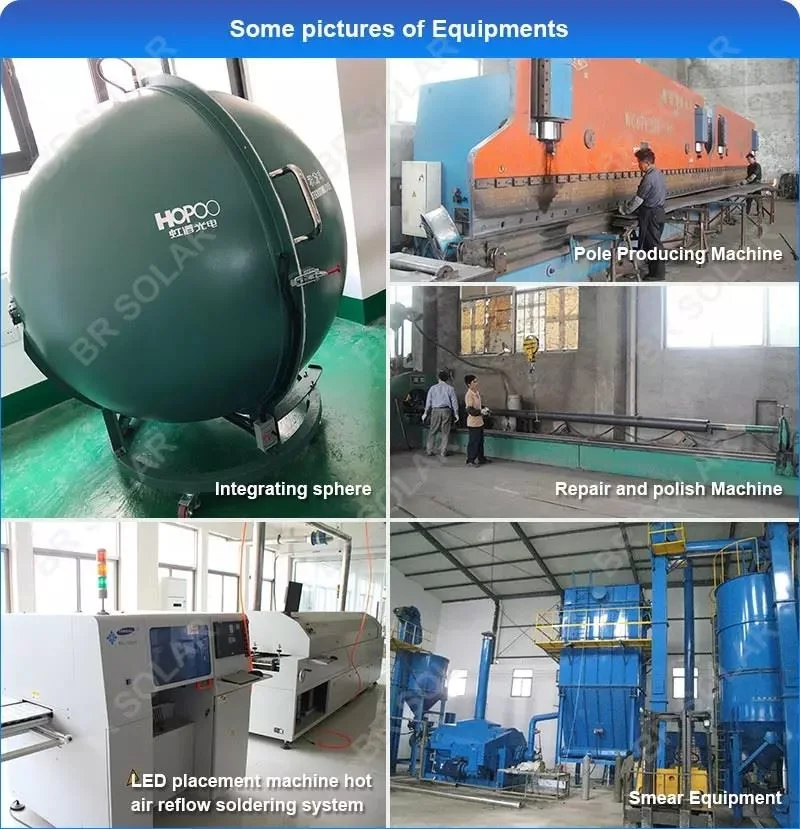 Thirdly, All of our products will be tested for lighting and waterproof after production.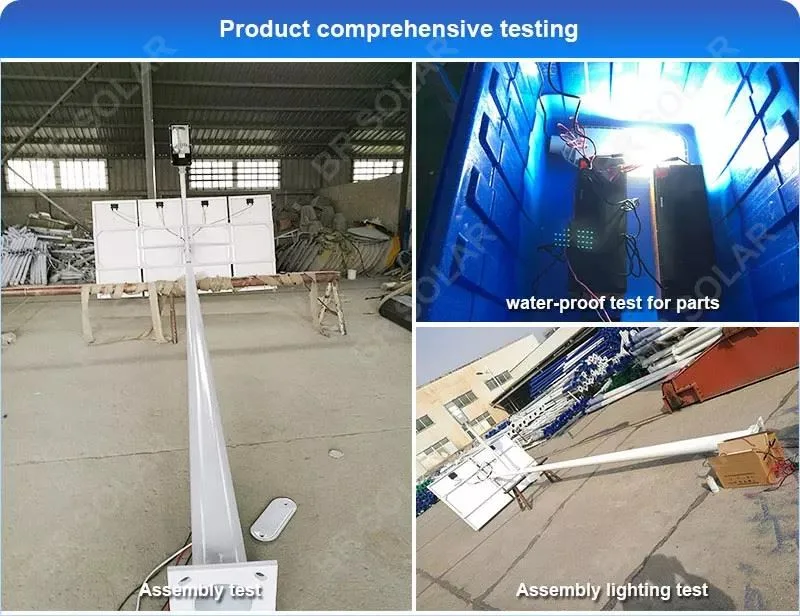 Fourthly, Our products have the certifications and certificates they deserve.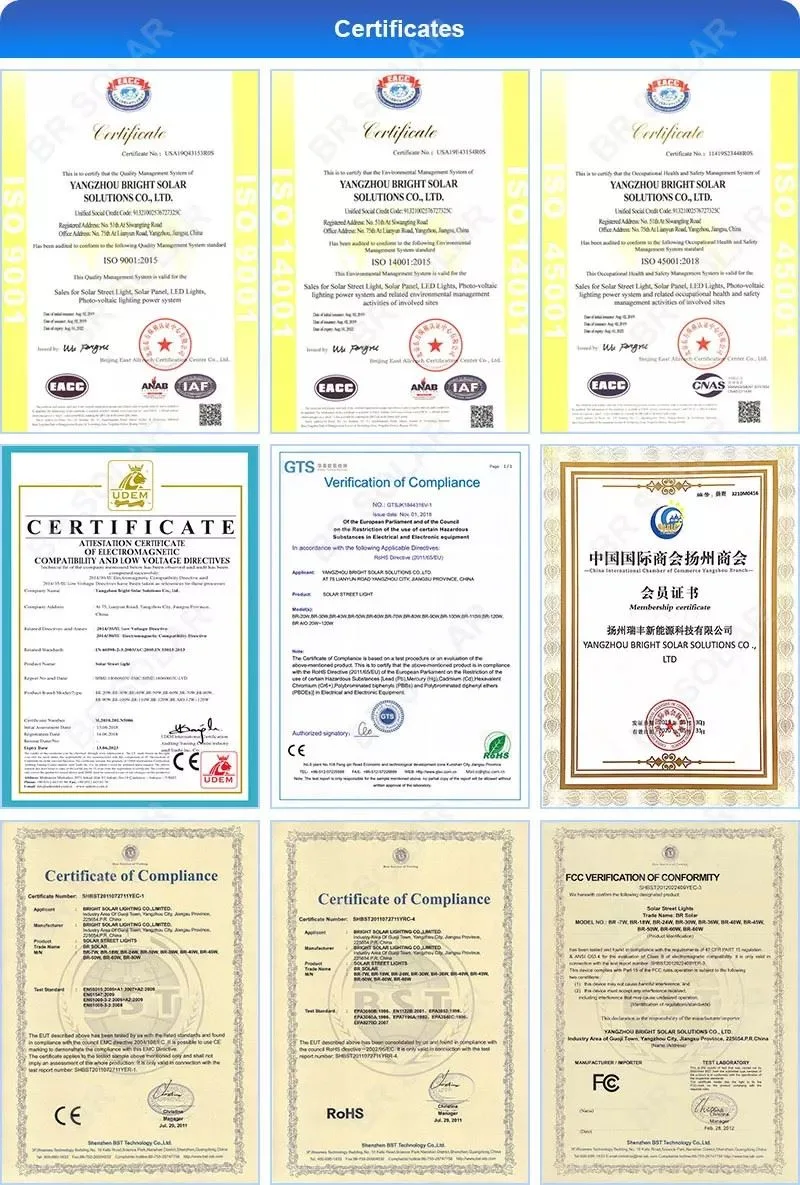 At last, We promise a guaranteed warranty for the entire system for three years, during which if there is any quality problem except man-made problem, repair or replacement shall be provided free of charge, and a guarantee for life-long repair.(5 years warranty is available if required )
4. Pictures of Customers' visit:
With experienced designing ability, advanced manufacturing & testing equipment, our group is growing better and better. We hope cooperate with more partners and solar distributors to develop more lighting projects to create prosperous win-win partnerships. We are here looking forward to your visit.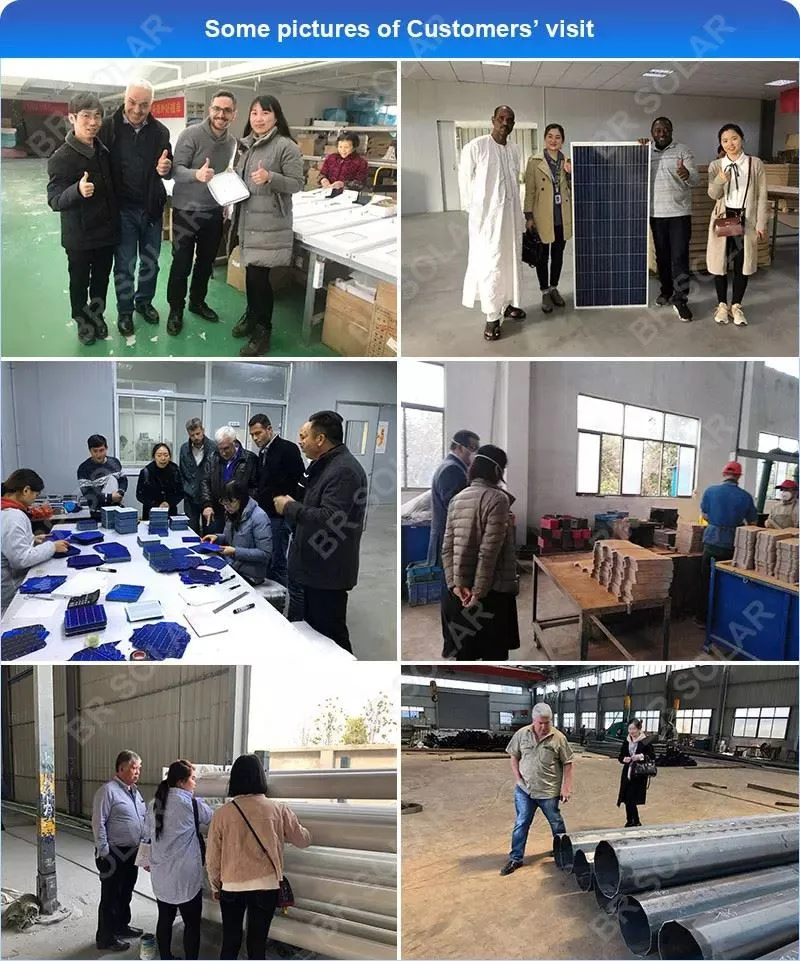 5. Some More Pictures for Installing Solar Street Lights: