10 feet digital Konica minolta 512i print head solvent printer adhesive tape flex banner printing machine
What features should the best solvent printer has?

A. Printing Quality
People will pay attention to the printing quality when talking about a printer. Printing quality is not only resolution. Actually, large format outdoor advertising doesn't need high resolution, meanwhile brilliant colors and creatively design is more important.

B. Printing Speed
Another point we'll concern about is "printing speed". In order to earn more profit per unit time, every body wish their machines print faster. However, it is not easy to keep good quality at fast printing.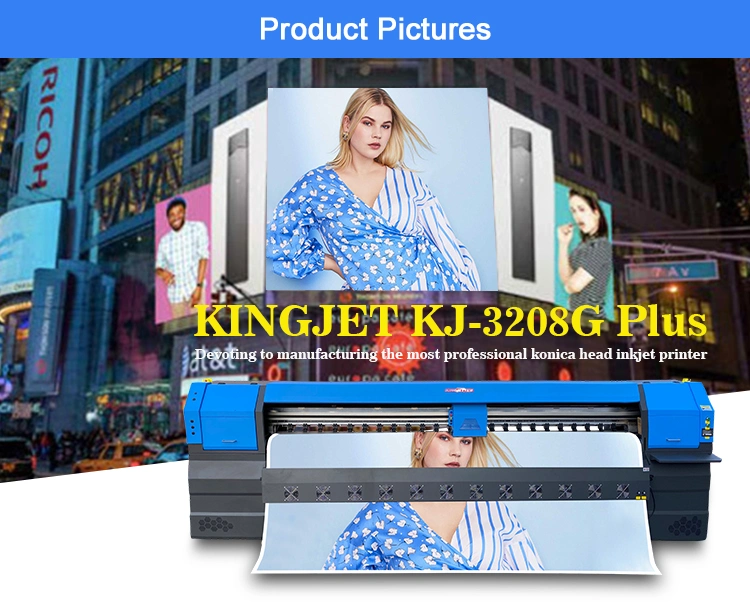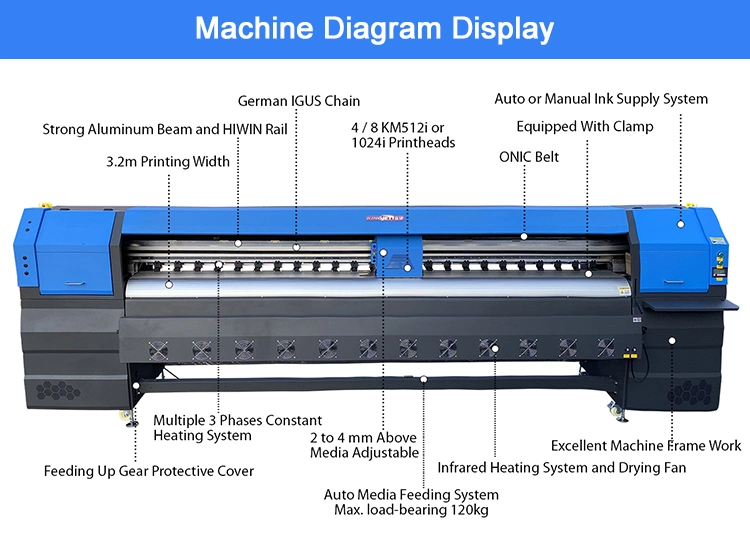 Kingjet KJ-3208G Plus Solvent Printer

Print Width

3200mm(10.5ft)

Printhead

KM512i-30PL-8H

KM1024i-30PL-8H
KM1024i-13PL-8H

Printing resolution

480*360dpi 2pass 240sqm/h
480*540dpi 3pass 180sqm/h
480*720dpi 4pass 120sqm/h
480*360dpi 1pass 480sqm/h
480*720dpi 2pass 240sqm/h
480*1080dpi 3pass 180sqm/h
480*720dpi 4pass 120sqm/h
540*720dpi 2pass 230sqm/h
540*1080dpi 3pass 170sqm/h
540*720dpi 4pass 120sqm/h
540*1080dpi 6pass 80sqm/h

Ink Type

4 Color(C,M,Y,K)

Ink Capacity

5L per main tank of each color

Ink Supply System

low ink detector,auto or manual ink supply system

Media Type

vinyl,flex,polyster,back-lit film,window film,ect

Cleaning System

auto positive pressure cleaning anti-clogged flash function&capping system

Equipped

auto media feeding system(max.media weight:120kg)

pre-heating&drying system

Clamp

Equipped

Print Interface

USB2.0

Printhead Height

2 to 4mm above media adjustable

RIP Software

photoprint,maintop

Input Power

AC 220v,50hz,4500w

Operation Environment

temperature:20-28° C,humidity:10-60%

Machine Dimension

L4650*w884*H1303MM;Net weight:780kgs(1,499lbs)

Package Dimension

L4900*w1060*H1650MM;gross weight:1000kgs(1,499lbs)
two units in one 20 feet container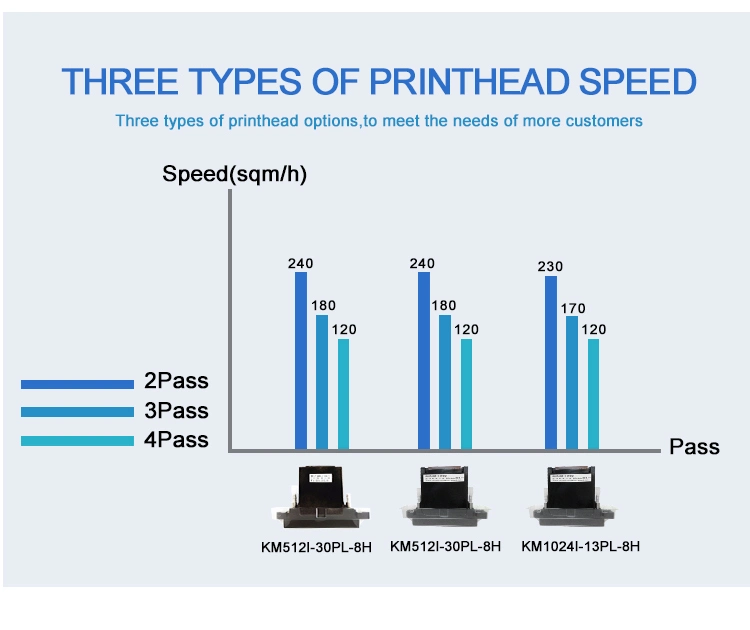 Our services
1.One year warranty, life-long after-sales service.
2.Technologist instant online support service.
3.One to one professional technical free training. We can send engineers to install the machine overseas.
4.For printer ink, the more you order, the cheaper the price !
5.Welcome to visit our Company or Factory at any time.
Contact Us